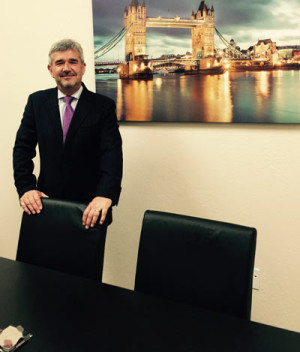 Specializing in US tax structures, reporting and compliance Simon Howell provides a full range of services to non-resident property owners and business investors at his firm Howell International Tax from his office in Orlando, including trading reviews, due diligence and business plans for E-2 and other US investor visas.
With extensive international business experience and a green card awarded for "Extraordinary Ability" based on turnaround skills, he is ideally placed to advise on optimal investment routes into the US. His career includes COO/CFO/FD roles DAC Beachcroft, Nabarros, The Welcome Trust, United Media PLC, SG Warburg and PricewaterhouseCoopers in London.
Following extensive working in New York and other US business centres, Simon Howell gained first-hand knowledge of the complex US tax reporting structure.
Initially filing US tax returns for major international partnerships which had income sources in Russia, Poland, France, UK and the US, it was incumbent upon him to understand clearly the interplay between these different tax jurisdictions.
As a former Manager with PricewaterhouseCoopers in London, Simon was able to combine that knowledge with huge experience in solving client problems either face to face or remotely.
His fundamental aim in founding Howell International Tax was, and is, to provide clear, easy to understand advice to non-tax and non-accounting investors who rely upon him to deliver responsive and thoughtful advice tailored to meet their personal or business objectives.
Simon first invested in USA property nearly 10 years ago and has therefore in-depth experience of the day to day buying and selling transaction process and the challenges that come with it. He deals with Realtors, Attorneys and Property Management Professionals on a regular basis and is well-placed those who are "new" to the US or those who are further developing their existing US property or business portfolios.
Added to that his business credentials are impeccable:
Awarded a "Green Card" for Extraordinary Ability in Business through turnaround skills
Former COO of DAC Beachcroft LLP, a £185m international law firm with 14 offices
6 years as CFO and COO of Davies Arnold Cooper LLP, the leading Insurance Law firm
4 years as Global CFO of Salans LLP responsible for London, New York, Paris and Eastern Europe
5 years as FD of leading property law firm Nabarro LLP,
Found and negotiated their merger with corporate litigation specialist Turner Kenneth Brown
Interim FD of the Royal Berkshire Hospital – implemented a landmark £15m deficit turnaround
Developed the financial model for them to become an NHS Foundation Trust
3 years as Finance and IT Director of The Wellcome Trust, managing £20 billion of assets
Non-Executive Director of Genome Research Limited, at the Welcome Trusts' DNA Campus
Represented the Welcome Trust's interests on the Steering Committee developing the Welcome Wing of the Science Museum and for the funding and building of the Seed Bank, at Kew Gardens
Simon has also been Finance Director in the media and financial services divisions of UBM PLC, including a 15 month Far East secondment, a General Manager for SG Warburg, the merchant bank and an Audit Manager with PricewaterhouseCoopers in London.
For 2 years Simon was a Non-Executive Director on the Board of St John Ambulance as their Independent Finance Trustee and member of their Audit and Risk Committee.
Howell International is here to listen, understand and advise.